Self Regional Healthcare Foundation
2021 Mid-Winter Ball
This event has ended!
Thank you so much to everyone who participated in our first VIRTUAL Mid-Winter Ball on Saturday, February 27! 
See behind-the-scenes photos here on Facebook, and stay tuned for more news. You can also see the discussion using our #maskerademwb2021 hashtag.
---
---
Announcing the 2021 Mid-Winter Ball
The Self Regional Healthcare Foundation has announced the details of the 2021 Mid-Winter Ball. The 2021 event will be held virtually, with a live stream, an online silent auction plus a live auction with a variety of exciting and one-of-a-kind experiences. Read the full press release here and download the poster here (PDF).
REGISTER TODAY, IT'S FREE
Live Virtual Event: Saturday, February 27, 2021
Silent Auction | Live Auction | Raffle
BEFORE BIDDING ON ANY OF THE INCREDIBLE TRAVEL PRIZES in our 2021 silent auction, be sure to read this important information.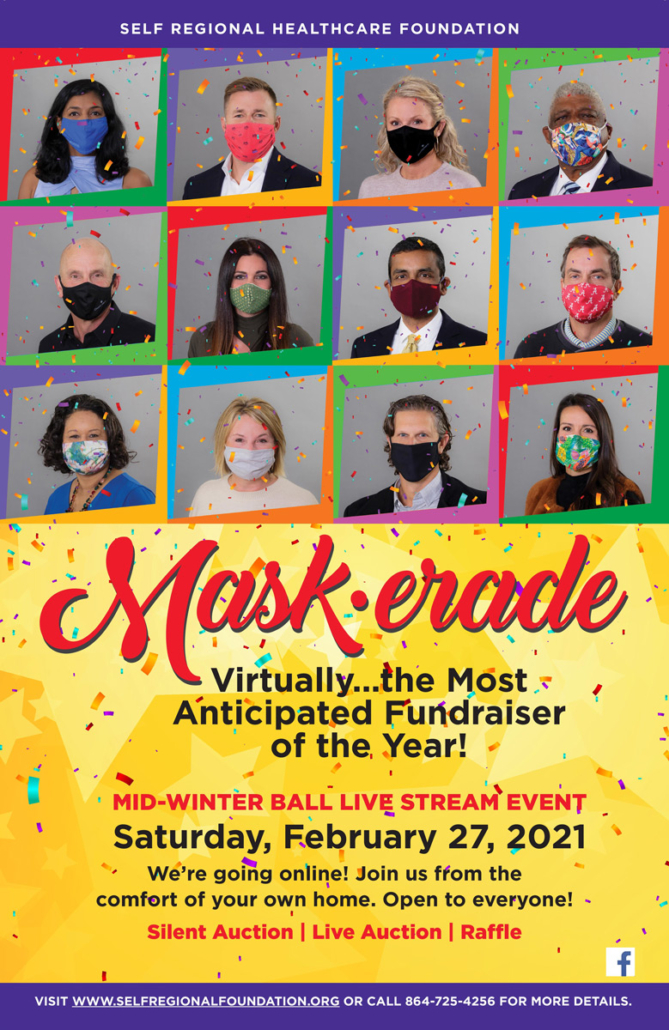 Click here to download the official poster for Mask-erade: Virtually… the Most Anticipated Fundraiser of the Year!
---
For information about the Mid-Winter Ball, contact Lisa Bishop at (864) 725-4256 or email lbishop@selfregional.org.
Visit srhfmidwinterball.org.
See photos from the 2020 Mid-Winter Ball and other past events in our Gallery section.
Follow Self Regional Healthcare Foundation on Facebook to keep up to date with special events and news related to the Foundation, its mission and events.