What Is The Team Member Campaign?
Our Team Member Campaign is the giving club through which the hospital family can show its support. By making a gift, Team Members have the satisfaction of knowing they are doing something important for Self Regional Healthcare and the community we serve.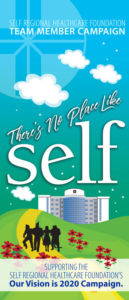 The Our Vision Is 2020 Campaign
Self Regional Healthcare is in the final stages of its master facility plan that is transforming the hospital campus. This plan has enhanced several vital service lines including the Childbirth Center, Ambulatory Care Center and Emergency Room. The funding for these projects comes from two areas: cash reserves that have been set aside knowing that these improvements were on the horizon and philanthropy from the community.
In support of this vision for Self Regional Healthcare, the Foundation created the Our Vision Is 2020 Campaign. The aforementioned projects have the potential for touching each of our lives, the lives of our families and the lives of some 250,000 residents who call Greenwood and the Lakelands their home. Enlisting the support of our Team Members is critical to our success in our community fundraising efforts.
Why should Team Members Give?
When our community volunteers are out asking for support, one of the most common questions asked is, "What's the Self Regional Healthcare family doing to support the Foundation?" Last year more than 300 Team Members contributed to the Foundation. Your generosity generated $240,000 in charitable support! When people in this community learn of the generosity of our Team Members, they are astonished. None of us are surprised and that's because Self Regional Healthcare Team Members don't just make a living…they make a difference in the lives of our patients and their families!
Help us focus Our Vision is 2020
Help us focus on the year 2020 by becoming a Team Member Contributor today! The easiest and most popular way to contribute is through payroll deduction. Your after-tax payroll deduction will come out of your pay check each pay period or once if you select the"one-time"deduction option. Your payroll deduction will begin as soon as your pledge form is processed, unless you provide an alternate start date.