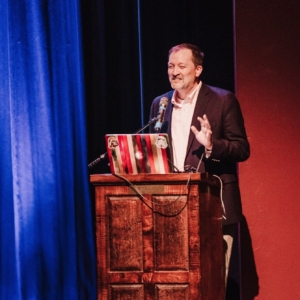 (Greenwood, S.C., April 11, 2022)— The Greenwood SC Chamber of Commerce and Self Regional Healthcare Foundation is pleased to announce a new program for chamber members and the community. Medically Speaking will be launched on Tuesday, May 10, 2022 and will feature Dr. Matt Logan, President and CEO of Self Regional Healthcare, who will give a "State of Self Regional Healthcare" presentation. The program will take place at the Greenwood Theatre at 5:30 p.m.
Following the presentation, the Self Regional Healthcare Foundation will host a reception for attendees in the Greenwood Museum.
"We are extremely excited to offer this program to our membership and this community. This new series gives us an opportunity to showcase our healthcare system and how it benefits the quality of life in Greenwood and the Lakelands region. We know how important Self Regional and healthcare is to our members and to our community, and our Chamber is thrilled to be part of this effort," said Barbara Ann Heegan, President and CEO of Greenwood SC Chamber of Commerce.
Two additional programs are being planned for 2022. The second program will provide information on the future of robotic surgery at Self Regional. The third program will focus on prevention and treatment of strokes, featuring feature Dallas Swartzentruber, Coordinator of Self Regional's Stroke and Trauma Program and Jennifer Clary, Director of the Stroke Program at Self Regional.
"We are happy to work with the Chamber on this initiative as this series ties in with the Self Regional Healthcare Foundations goal to 'provide service and education on healthcare to the community.' The Foundation's Business and Industry Committee has sponsored healthcare cost containment programs and CEO roundtables for area businesses and industries over the last 6 1/2 years," said Ken Coffey, Executive Director of Self Regional Healthcare Foundation.
Register for this event at www.greenwoodscchamber.org by Friday, May 6, 2022. The cost is $15.00. For questions, please call Barbara Ann Heegan at (864) 889-9312.
###
About Self Regional Healthcare:
Self Regional Healthcare is a not-for-profit, regional referral hospital that provides care to residents of Greenwood, Abbeville, Laurens, Saluda, McCormick, Edgefield and Newberry counties. Services include prevention and wellness, a cute care and tertiary care services including cancer care, neurosurgery, heart and vascular surgery, NICU, orthopedics and genetics. Self Medical Group is its employed physician affiliate network of 44 practices and more than 200 physicians.