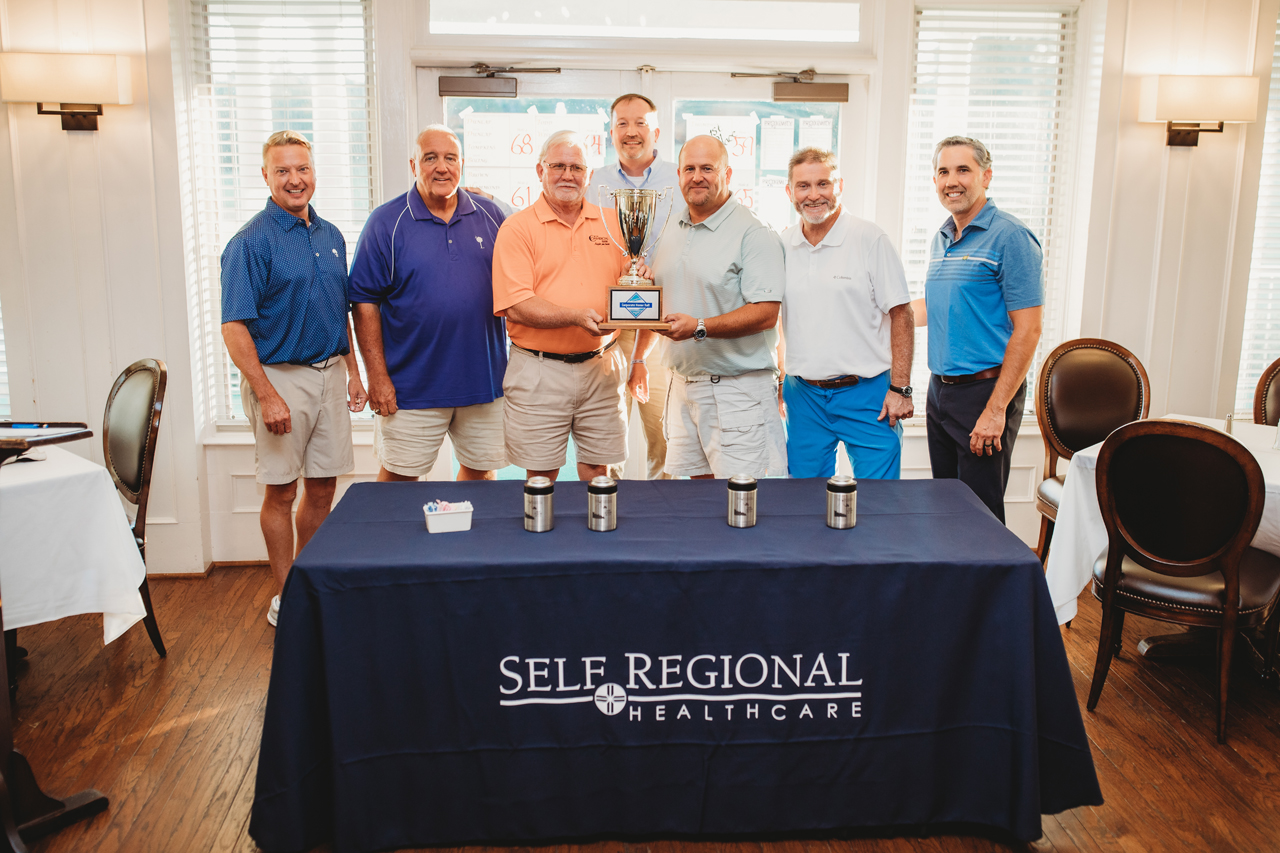 Self Regional Healthcare Foundation
For Immediate Release
October 28, 2022
Contact: Ken Coffey: kenneth.coffey@selfregional.org/864-725-4256
SELF REGIONAL HEALTHCARE FOUNDATION HONORS CORPORATE DONORS
(Greenwood, S.C., October 28, 2022) – The yearly event to celebrate business and corporate donors of the Foundation was postponed due to the pandemic, but on September 13, 2022, the SRH Foundation's Business and Industry Committee held its annual golf outing for their Corporate Honor Roll members.
Each member was offered an opportunity to put a team together and play in the Corporate Honor Roll Cup Tournament, held at the Greenwood Country Club. "We thought this might be something a little different than the run-of-the-mill recognition event. We had a great response, and I think our members truly enjoyed the day," said John Davidson, co-chairman of the Foundation's Business and Industry Committee.
The Commercial Bank team of Tim Thompson, Senator Mike Gambrell, Nakia Davis and Earle Ashley won the first annual Corporate Honor Roll Cup trophy with a winning score of 59.
After golfing, all members of the Corporate Honor Roll were invited to a recognition reception. Dr. Matt Logan, President & CEO of Self Regional Healthcare, offered remarks about the state of Self Regional and thanked the business donors for their past and ongoing support of the Foundation.
Tim Hodges, chairman of the Foundation board of trustees, said "Corporate giving is important to our healthcare system. Not only does it help to ensure that our hospital is able to continue to develop new programs and services to serve the healthcare needs of the community, but having a premier hospital in our community is a direct benefit to employers and their employees. We have a terrific hospital, and it wouldn't be the great hospital that that it is without the past and ongoing support of businesses and industries who are members of our Corporate Honor Roll program."
Foundation Business and Industry committee chair John Davidson also offered remarks, thanking the business community for support of the foundation. "As you know, we are in the early stages of our next capital campaign, The Equation for Progress. This campaign will be transformational in that it will bring state-of-the-art robotic surgery capabilities to better treat prostate cancer, as well as a comprehensive breast center for women dealing with breast cancer," said Davidson.
For more information on the Equation for Progress Campaign, contact the Foundation office at 864-725-4256 or visit www.selfregionalfoundation.org.
About Self Regional Healthcare Foundation:
Self Regional Healthcare Foundation is a 501 c (3), not for profit organiza7on (https:// www.selfregionalfoundation.org/) that funds health-related programs and projects at Self Regional Healthcare (https://www.selfregional.org/), a not-for-profit, regional referral hospital that provides care to residents of Greenwood, Abbeville, Laurens, Saluda, McCormick, Edgefield and Newberry counties. Services include prevention and wellness, acute care and tertiary care services including cancer care, neurosurgery, heart and vascular surgery, NICU, orthopedics and genetics.
######