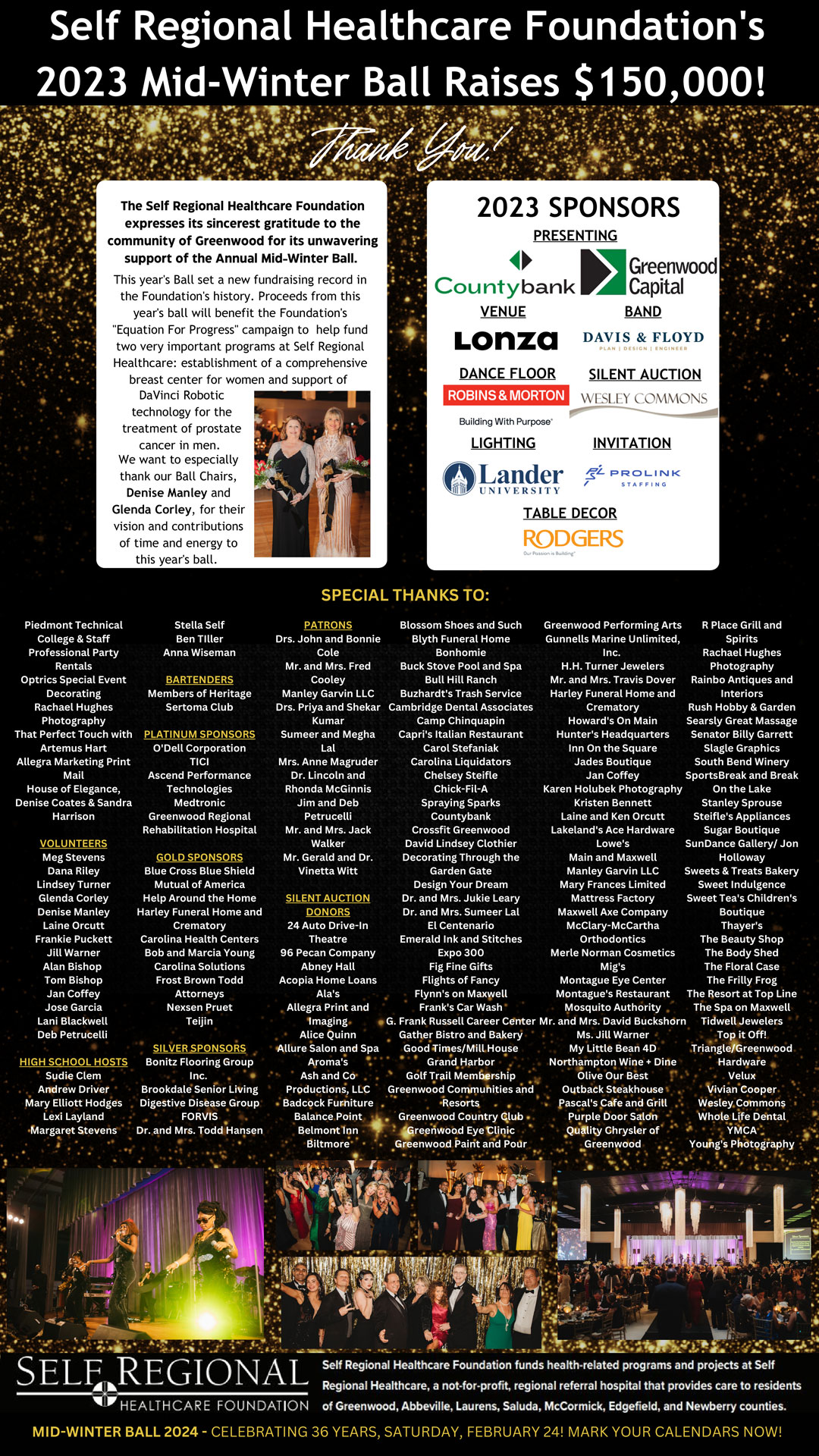 Self Regional Healthcare Foundation
For Immediate Release
May 18, 2023
Contact: Jessica Garcia/Jessica.garcia@selfregional.org/864-725-4256
SELF REGIONAL HEALTHCARE FOUNDATION'S MID-WINTER BALL SETS NEW FUNDRAISING RECORD
(Greenwood, S.C., May 18, 2023) 
THE RESULTS ARE IN! The numbers have been crunched and the totals have been tallied. The Self Regional Healthcare Foundation is pleased to announce that their 2023 Mid-Winter Ball raised a record breaking $150,000. These proceeds will benefit the Foundation's "Equation for Progress" campaign to help fund two very important programs at Self Regional Healthcare: establishment of a comprehensive breast center for women and support of DaVinci Robotic technology for the treatment of prostate cancer in men. 
The Foundation would like to especially thank our Ball Chairs, Denise Manley and Glenda Corley, for their vision and contributions of time and energy to this year's ball. 
"We are very pleased with the Ball's total profit towards the Equation for Progress. As the Chairs, we understand the need for healthcare advancements at Self Regional Healthcare surrounding these two leading cancers. We are thankful to the community for their ongoing support of this event. We could not have done this without the local business buy-in and our wonderful Silent Auction Committee. This year's committee worked diligently to collect high-end auction items from over 120 businesses. Their efforts are why this year's Silent Auction was the second most profitable auction in the last 10 years!" said Denise Manley. 
"As my second year chairing the Mid-Winter Ball, I can honestly say that this event is indeed the premier social gathering of the year. With the help of volunteers and the wonderful Foundation staff, planning this elaborate event feels like a party months before the final night! There are so many community partners that assist in the event, from Self Regional's Food and Nutrition Team bringing the best gourmet meal, to That Perfect Touch with Artemus Hart making sure that every center piece is placed to perfection. I want to send a special thank you to our sponsors who make this event possible, we couldn't even begin to host this event for the community without your support."  said Glenda Corley.
The Foundation will celebrate 36 years of the Mid-Winter Ball on Saturday, February 24, 2024. The Chairs have been selected and brainstorming has already begun, so mark your calendars and help make next year another record breaking ball!  
For more information on the Equation for Progress Campaign, contact the Foundation office at 864-725-4256 or visit www.selfregionalfoundation.org.
About Self Regional Healthcare Foundation:
Self Regional Healthcare Foundation is a 501 c (3), not for profit organization (http://www.selfregionalfoundation.org/) that funds health-related programs and projects at Self Regional Healthcare (http://www.selfregional.org/), a not-for-profit, regional referral hospital that provides care to residents of Greenwood, Abbeville, Laurens, Saluda, McCormick, Edgefield and Newberry counties. Services include prevention and wellness, acute care and tertiary care services including cancer care, neurosurgery, heart and vascular surgery, NICU, orthopedics and genetics.
# # # # # #