Self Regional Healthcare Foundation Announces 2023 Medically Speaking Series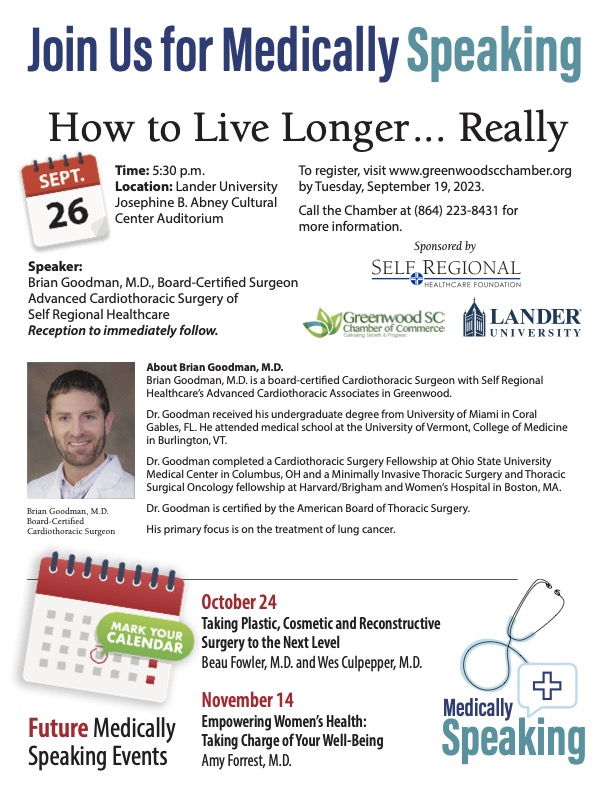 Self Regional Healthcare Foundation
For Immediate Release
August 2, 2023
Contact: Jessica Garcia, Development Officer, 864-725-5625
jessica.garcia@selfregionalfoundation.org
Greenwood Chamber of Commerce
Contact: Trentsie Williams, Pres. & CEO, 864-223-8431
twilliams@greenwoodscchamber.org
SELF REGIONAL HEALTHCARE FOUNDATION ANNOUNCES 2023 MEDICALLY SPEAKING SERIES
The Self Regional Healthcare Foundation Business & Industry Committee is pleased to announce its 2023 Medically Speaking series. This initiative launched in 2022 to inform Greenwood Chamber of Commerce members and the community on timely healthcare information featuring expert speakers from the Self Regional Healthcare medical staff.
"We are thrilled that Lander University and the Chamber of Commerce have collaborated with us again this year. We look at this series as an important way to provide the community about information on Self Regional Healthcare and how it benefits the quality of life in Greenwood and the Lakelands. Additionally, Medically Speaking provides great learning opportunities for nursing and other health science students at Lander University, Piedmont Technical College and our local high schools," said Ken Coffey, Executive Director of the Self Regional Healthcare Foundation.
The following programs have been scheduled:
September 26, 5:30 P.M. – Dr. Brian Goodman will speak on "Living A Longer Life…Really"
October 24, 5:30 P.M. – Dr. Beau Fowler and Dr. Wes Culpepper will present "Taking Plastic, Cosmetic, and Reconstructive Surgery to The Next Level"
November 14, 5:30 P.M. – Dr. Amy Forrest will speak on "Empowering Women's Health: Taking Charge of Your Well Being"
All programs will take place in the Abney Cultural Center Auditorium on the campus of Lander University.
These programs are all free to the public, but registration is required.
"The Greenwood Chamber of Commerce is happy to be part of this series. Medically Speaking gives us an opportunity to showcase our healthcare system. We know how important Self Regional Healthcare and healthcare is to our membership," said Trentsie Williams, Pres. & CEO of the Chamber of Commerce.
To register for each program, visit www.greenwoodscchamber.org or call the Chamber at 864-223-8431. A reception with light refreshments is hosted by Lander University. For questions, you can call the Self Regional Healthcare Foundation at 864-725-5625.
# # # # #
About Self Regional Healthcare Foundation:
Self Regional Healthcare Foundation is a 501 c (3), not for profit organization (http://www.selfregionalfoundation.org/) that funds health-related programs and projects at Self Regional Healthcare (http://www.selfregional.org/), a not-for-profit, regional referral hospital that provides care to residents of Greenwood, Abbeville, Laurens, Saluda, McCormick, Edgefield and Newberry counties. Services include prevention and wellness, acute care and tertiary care services including cancer care, neurosurgery, heart and vascular surgery, NICU, orthopedics and genetics.
https://selfregionalfoundation.org/wp-content/uploads/2023/08/Foundation_Medically_Speaking_Event_Flyer.jpg
792
612
David Windham
https://selfregionalfoundation.org/wp-content/uploads/2022/08/srhf-logo-newb-552.png
David Windham
2023-08-03 18:28:29
2023-08-22 15:41:48
Self Regional Healthcare Foundation Announces 2023 Medically Speaking Series